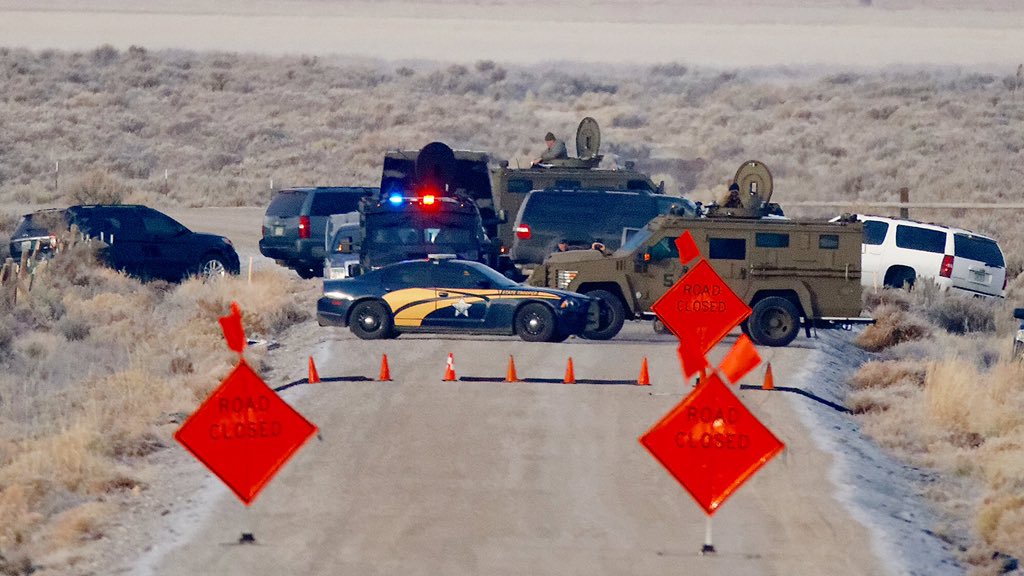 The remaining militia at the Malheur National Wilfdlife Refuge have refused to leave and are armed and calling for the murder of law enforcement blocking access to the site.
The last livestream from Malheur (below) was interrupted at approximately 12:20pm ET. In it, an unidentified armed man repeatedly called for help from other militia groups while claiming that militia are actually on the way. He called on others to kill law enforcement officers for refusing to honor their "oath."
The livestream showed a small group of heavily armed people somewhere on the Malheur property while a front loader dug up and moved earth, appparently in an attempt to build a wall or create a moat.
Meanwhile, one occupier literally screamed into the video recorder, condemning all law enforcement and calling on "Patriots" to kill them.
#Oregonstandoff Livestream. Militia screams. "LEO… are the enemy. If they stop you from getting here, KILL THEM." https://t.co/wdEh7Waqi9

— Grace Laine (@TAW3333) January 27, 2016
Remaining militia are digging up Malheur w backhoe; armed to the teeth; screamin to KILL ALL LOEs. #Oregonstandoff https://t.co/HFifoAjX3r

— Grace Laine (@TAW3333) January 27, 2016
Now screaming "Media is waiting for a bloodbath the whole time we've been here. Now there is going to be one." pic.twitter.com/YGGKddxjOk

— Jennifer Hayden (@Scout_Finch) January 27, 2016
---
Press have left the area and a large show of force has sealed off all access points to the refuge.
Several armored vehicles & what appears 2 b a black hawk at airport in Burns. Cops @ entrance #Oregonstandoff pic.twitter.com/yuwDHgzNI9

— Beth Nakamura (@bethnakamura) January 27, 2016
//platform.twitter.com/widgets.js
A slightly earlier series of streams from "DefendYourBase" were also cut short, presumably from an external source. Below are a few excerpts from that stream.
#Oregonstandoff "I want to say goodbye to my beautiful wife and my beautiful daughter Rebecca." DefendYourBase. https://t.co/G1luNY3tP9

— Grace Laine (@TAW3333) January 27, 2016

#Oregonstandoff "Where are those III percenters?" Livestream at #Malheur "Yashua is Christ." https://t.co/6IQeQr3HAc
— Grace Laine (@TAW3333) January 27, 2016
Livestream at #Malheur "The kids are gone." "Only grown men & grown women" at refuge. https://t.co/FeqNiuamGI

— Grace Laine (@TAW3333) January 27, 2016
"Clooney [sp] is in control." #Malheur #Oregonstandoff Livestream. https://t.co/IeOm5BWSVX

— Grace Laine (@TAW3333) January 27, 2016
A press conference is scheduled for 10:30 am PT at the Harney County Chamber of Commerce.  According to the FBI news release, the following are expected to participate: FBI, Special Agent in Charge Greg Bretzing, United States Attorney's Office, U.S. Attorney Bill Williams, and Harney County, Sheriff Dave Ward.
---