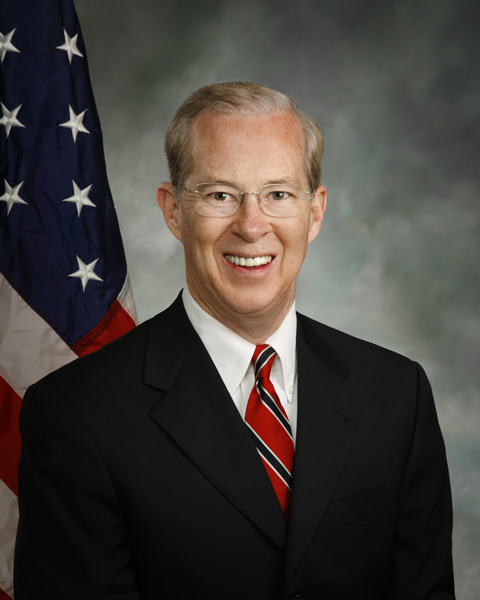 He doesn't get the daily headline or breathless reporting but Dana Boente is a significant figure in the Justice Department's spiraling realm of special prosecutors and attorneys general of all ranks.
Two months ago, Boente got his pink slip. And yet, he remains. His presence is especially odd when contemplating this administration's strained relationship with Justice – and Boente's inside knowledge of executive misdeeds.
By inserting Boente into a chronology, it's easier to understand how his persistent presence impacts this administration.
Back in late October, Boente abruptly released a resignation letter. Shortly after, news sources revealed that Boente didn't quit after all. He was forced out by his boss, Attorney General Jeff Sessions.
Boente, a civil servant with three decades of service under his belt, was – and still is – the Attorney General for the Eastern District of Virginia (EDVA). A pivotal district court, the EDVA works in coordination with federal agencies in D.C., including top investigative bodies and the CIA. Under Boente's aegis, the grand juries which brought indictments against two Trump men – Paul Manafort and Mike Flynn – took place. Boente's EDVA opened an investigation into Wikileaks founder Julian Assange, also woven into the Putin-Trump investigation. Boente also convicted the Romanian hacker known as Guccifer, a Russian-born cyber criminal named Alexander Tverdokhlebov, and a couple of North Carolina men who hacked senior government officials.
Boente, an Obama-era appointee, now holds two separate jobs. In addition to the EDVA, he acts as the Assistant Attorney General at Justice for its National Security Division (NSD). He took on this job at the end of April, and as of this writing, is still in place. The NSD houses one of the country's 16 intel agencies within the DEA and routinely prosecutes domestic terrorism and cyber crime cases.
But there's more.
Boente was the Acting U.S. Attorney General following Trump's removal of Sally Yates and prior to the installation of Sessions. This role was engineered through an Executive Order signed by Trump early in his administration and lasted about two weeks.
While acting as the Attorney General (AG), Boente was the direct supervisor of FBI Director Jim Comey, also fired by Trump. In his June Senate appearance, Comey testified that he told his supervisors of a dinner during which Trump twice asked for personal loyalty. The dinner between the two took place on 27 January. This means Boente, who was in place by the end of January, could possibly corroborate a mounting case of obstruction by Trump.
Boente wore a fourth hat as the Deputy Attorney General before Rob Rosenstein's appointment was confirmed. During this tenure, Boente was privy to another aberrant request by the president to the head of the FBI. On Valentine's Day, Trump cleared the room and then asked Comey to drop the investigation into his just-fired NSA chief, Mike Flynn. In his testimony, the FBI chief recalled Trump saying, "I hope you can see your way clear to letting this go, to letting Flynn go."
According to Comey, he reported this request to Boente. As is public knowledge, Flynn has since pled guilty to charges stemming from the FBI and Special Counsel investigations.
His accumulation of incriminating information and as an insider to cyber crime and terrorism makes Dana Boente a threat to the president and a gift to special prosecutor Bob Mueller. Another with that same knowledge, the FBI's Deputy Director Andrew McCabe, who recently stepped down after blistering attacks and personal taunts by Trump via Twitter.
In total, Dana Boente has held the following positions: Attorney General for the Eastern District of Virginia, Assistant Attorney General for National Security Division, U.S. Attorney General and Deputy Attorney General. All but one of these (AG for EDVA) was a temporary but fully functional job. And each role within Trump's Justice Department placed him ever nearer to potentially explosive information regarding obstruction of justice by this president and others in his orbit.
So why does Dana Boente persist as an active employee of Trump's Justice Department?
By all appearances, Boente will hand over his job as Assistant Attorney General to a fellow named John Demers, Trump's hand-picked lawyer from the Boeing Corporation, sometime in 2018. Demers was nominated by Trump back in September, passed through Senate committees and his approval is on its Calendar.
But as far as his role at the crucial EDVA, who knows when he will leave. Virginia Sens. Mark R. Warner and Tim Kaine say they are accepting applications for the position. In a statement released on 27 October, the Senators said:
"We are grateful for Dana Boente's public service and look forward to reviewing qualified candidates and selecting the right individual for this significant role."
The search may continue for some time. Dana Boente is irreplaceable when it comes to his quiet role in the Trump-Russia investigation.